The importance of digital marketing is growing daily as the world economy shifts to a digital one. The importance and significance of digital marketing must be understood by smaller businesses, big businesses, students, recent graduates, and traditional marketers. The importance of online marketing is discussed in this blog.
Why is digital marketing important?
Online marketing is very important because it links a company with its clients when they are online and works across all industries. It connects companies with their ideal clients on Google through SEO, PPC, social media through social media marketing, and email through email marketing.
ALSO READ: What Is AMP and Steps To Implement AMP
Scope of Digital Marketing In Future
When audiences started using search engines and social media as their primary sources of information and connection, online marketing really got started. Since then, the reach and significance of online marketing have grown significantly.
When their target audiences migrate to search engines and social media, businesses are turning to digital platforms for their branding requirements. Businesses receive more searchable outcomes, leads, and eventually sales due to online marketing.
Digital marketers have received more funding as a result of the growth in business, which has raised the number of positions in the field. As a result, the reach of online marketing is expanding and changing constantly.
ALSO READ: How To Use Youtube SEO For Freelance Business
Benefits of Digital Marketing for Small and Big Businesses
Now that we are aware of the extent of online marketing in India, let's examine its significance for both small and large organizations. The development and recognition of their brands are their primary goals.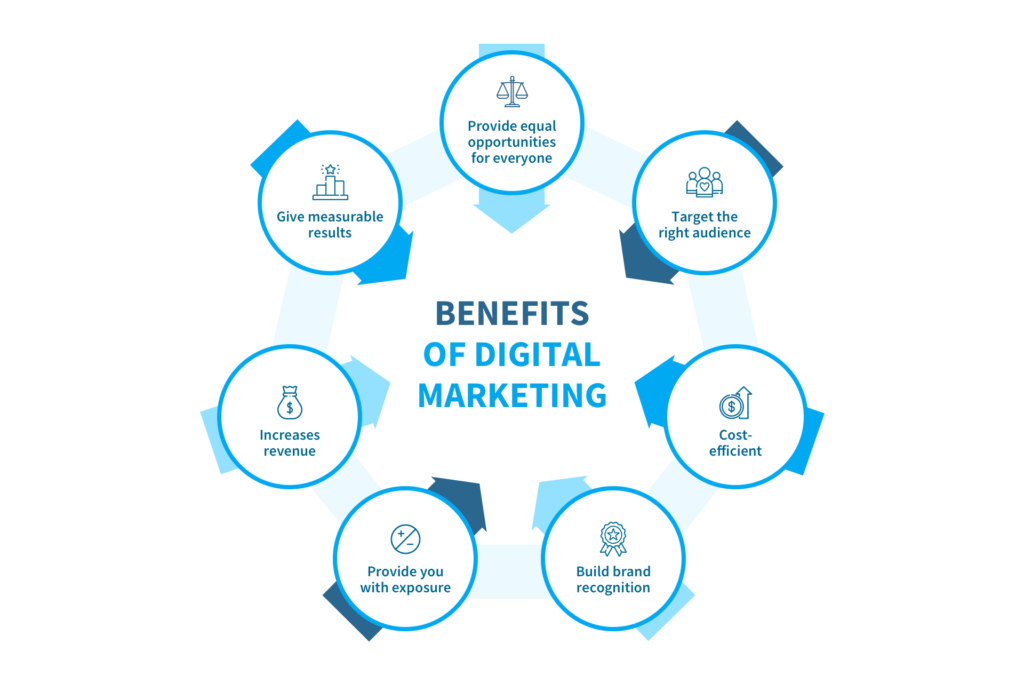 1. Cost-Effective
2. High Reach
3. Brand Awareness
4. Building a Customer Base
5. Measurable Results
6. Brand Image
7. Increase in ROI
8. Retaining Loyal Customers
9. Increase Revenue
10. Target the right customers
FAQs – Frequently asked questions
Q1-Why digital marketing is important for future?
Ans – Businesses now have a platform through which to interact with customers and target the market due to online marketing. As a result, businesses are better able to determine the demands of their clients and develop a strong connection with them by building a unique corporate image.
Q2-What are the 3 most important things in online marketing?
Ans – The three primary elements of onlinel marketing are lead generation, lead capture, and lead nurturing.
Q3-How online marketing can help your business?
Ans – In order to personalize messaging and improve targeting, using online marketing makes it easier to determine who your customers are. You may establish a relationship with your clients by doing this. You evolve into a partner who can be trusted, much more than just a business.
Q4-How does online marketing improve sales?
Ans – It gives you the opportunity to quickly and cost-effectively spread your brand's message to a large number of people. Digital marketing also enables you to monitor the success of your activities, whether you're developing a new email campaign, remarketing plan, content, or CTA.